Vacation Bible School 2017
We're so excited about VBS: Mighty Fortress this year!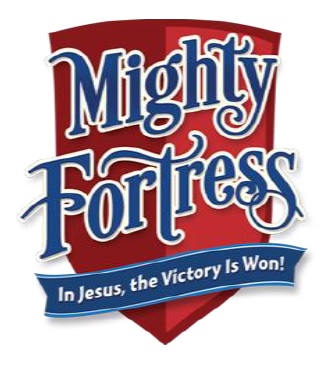 Vacation Bible School is an amazing week where kids and volunteers come
together to explore God's Word, praise His name and experience lessons through games, food, fun, music, and crafts. Registration opens soon for adult and teen volunteers, as well as for children ages
preschool through grade 6.
Dates: July 10 – 14, 2017: 8:30 AM to 12:00 Noon

Download – 2017 INFORMATION FLYER

Download – 2017 REGISTRATION FORM

Download – 2017 VOLUNTEER FORM
See God's love come to life this summer by touching lives, changing hearts and drawing kids and adults closer to Christ. Combine your talents with our Vacation Bible School Castle Crew this year to create an unforgettable week in July. In addition to our Crew Leaders, we need volunteers to help with music, Bible stories, games, music, crafts, snacks and more.
Monday, July 10th to Friday, July 14th from 8:30 AM to 12:00 Noon
Friday, July 14th Closing Program from 12:15 – 1:00 PM
Followed by a picnic on the lawn.
– $30 Registration for each of 2 children in a single family
– $20 Registration for each additional child from that same family
– $5 Late fee for each child registered after June 30th (if space is available)
T-shirts included in registration pricing.
To participate, children must be age 3 or almost 3, ready for and enrolled in preschool and potty trained.
Registrations will only be accepted with FULL PAYMENT and a CURRENT IMMUNIZATION RECORD (as required by New York State) for each participant.
Checks or cash can be brought to the church office.
Please register early as we fill up quickly and space restrictions will apply. An additional $5.00/child late fee will be added to all registrations accepted after June 30, 2017, if space is available.
Registration fees are non-refundable for cancellations after June 30th. Refunds will be issued if cancelled after June 30th but before July 10th if accompanied by a Doctor's note.
Register in person or mail the following downloadable attachments to:
First Presbyterian Church in Goshen
33 Park Place
Goshen, NY 10924
For additional information you can contact:
Church Office: 845-294-7991
Allison Csernai: 845-341-8541
Rebecca Boardman: 845-537-6628
Checks given for registration fees but returned unpaid by a bank for any reason will result in a $20 returned check fee and may result in the loss of registration. If check is returned as unpaid, or remains unpaid after VBS has concluded a $30 returned check charged will be imposed. Payment for returned checks and fees must be paid by cash or certified funds only.